Dubai, the world's most gorgeous city, acts like a magnet attracting investors worldwide. And investors are automatically attracted due to favorable taxes, excellent buildings, and a thriving economy. In 2022 there were 97398 sales transactions. Top buyers of this market include the British, followed by Indians.
Dubai is one of the world's fastest-growing cities. It has a successful economy, an unmatched investment portfolio, and some of the greatest profits on property investment. Dubai is attractive for business because registering a company in Dubai is easy and fast.
Several factors contribute to Dubai's growing property market. With its growing real estate market, vibrant economy, favorable government policies, and solid infrastructure, Dubai continues to draw domestic and foreign investors.
In this article, you will learn about the different reasons why Dubai is the best place to invest in real estate this year. Whether you are an experienced investor or a first-time buyer, keep reading this article to see why Dubai should be on your investment list in 2023.
Read | Tips For Buying Affordable Home In Dubai
Why Invest in Dubai Real Estate Market?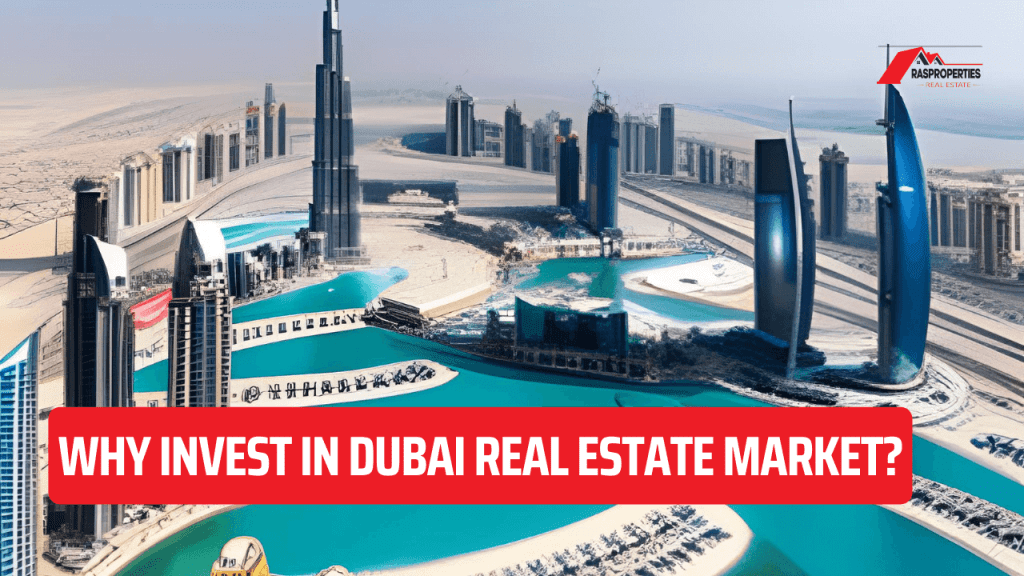 Presently, Dubai—the perfect investment destination—has experienced a 67% growth in international property purchasers. There has been a considerable rise in the number of investors trying to buy a house in this emirate. Villas and apartments are both in high demand because they provide various benefits.
Some purchasers are drawn to the future income from renting out flats in coastal locations, while others are drawn to luxury villas.
Reasons to Invest in Dubai Real Estate Market
I have enlisted a few reasons below that will insist you invest in the real estate market in Dubai.
House Can Be Purchased with Cryptocurrency.
Dubai, which intends to be the world's crypto capital, enables purchasers to pay in cryptocurrency. As long as all legal conditions are completed, the Dubai real estate market will accept Bitcoin and other cryptocurrencies.
Bitcoin Switzerland (BTCS) is the most popular crypto agency in Dubai and the UAE, making it a popular alternative for investors wishing to buy property in the UAE. Investors may use Bitcoin to purchase villas, townhouses, flats, and commercial properties in Dubai, providing a safe, efficient, and speedy transaction procedure.
International Developers
Dubai's real estate industry is recognized for having international developers that have created some of the world's most famous and expensive residences. These developers are well-known for their unique ideas, high-quality construction, and attention to detail, making them popular with investors and purchasers. DMERAAS and Dubai Holding are among the top developers in Dubai.
These developers have a great record of completing real estate projects with significant returns on investment. Furthermore, because these developers are devoted to sustainability, their projects are built to be environmentally friendly and energy-efficient, making them appealing to investors who value sustainability.
Tempting Rental Income
The great return on investment makes real estate investing in Dubai beneficial. Rental income is considered a critical part of returns since it grows quickly compared to capital gain, which can only be obtained by selling the property or releasing significant assets through a loan.
Despite a reduction in total sales and rent prices, flats had an average Return on investment of 7% last year, while villas achieved a 5% RoI. This indicates that if an investor buys a two-bedroom property for AED1,000,000, the whole value may be returned in 12.5 years, even if rental rates remain constant.
A Thriving Tourism Economy
Dubai's tourist business has grown recently, with the emirate receiving millions of yearly visitors. Dubai received approximately 14.36 million visitors in 2022, an increase of 89% over the previous year, making it one of the world's top tourist destinations.
The tourist business is expanding, with Dubai hosting several major events and conferences. Because of the many visitors that visit Dubai, there is a significant demand for short-term rental properties such as hotels, serviced apartments, and vacation homes. This is a fantastic investment opportunity for real estate investors eager to cash in on the expanding tourism sector.
High Living standards
Dubai is on any list of the world's most wealthy cities. Unlike anything else, the city is known for its glamour and luxury culture. Yet the city isn't all about luxury. It's a lifestyle destination that redefines luxury and has everything you want.
With world-class infrastructure, top-tier restaurants, recreational and entertainment award-winning schools, and universities – Dubai offers a high-quality lifestyle at a reasonable price.
Monitored Markets
The real estate market in Dubai has been recognized as the most transparent in the Middle East and North Africa. The market is currently at the highest of success, with no indications of dropping. The government is increasing market accessibility through new and improved programs and legislation.
Dubai has recently become one of the world's most dynamic cities, attracting investors worldwide. These elements generate a variety of chances for property investors eager to benefit from Dubai's thriving real estate market.
New strategies for residence
The UAE has announced that investors could get 10-year residence permits. Given this, there has never been a better moment to invest in Dubai's real estate market.
Whether searching for a new home for your family or expanding your property portfolio, different Property Managers can help you at every step. Begin now with Dubai Properties!
Population Growth
According to the Dubai Center estimation, the city's population can reach 6.2 million by 2040. The predicted population expansion in Dubai by 2040 will likely result in more real estate developments, providing investors with a good return on investment.
These elements combine to make Dubai's real estate market one of the finest investments.
Environment Free of Taxes
The absence of taxes in Dubai is a massive attraction for real estate investors. It appeals to wealthy individuals and businesses looking to maximize earnings while avoiding high tax bills.
Dubai's tax-free status has become a refuge for rich investors worldwide looking for safe and attractive investment possibilities. Dubai provides a unique chance for investors to develop their wealth while paying no income, property, or capital gains taxes.
Excellent weather
Dubai is well-known for its weather. Overall weather is hot. There are two different seasons in Dubai: winter and summer. Summer begins in May, and winter begins in October. It has hot, sunny weather with a clear sky during the year.
From November through February, temperatures are comfortable, and there's a thrill in the air with various events and activities ranging from the Dubai Shopping and Food Festivals to the Dubai World Cup.
FAQs:
What is the Future of Real Estate in Dubai?
The Dubai real estate industry is continuously growing and is expected to grow by 46% by 2023. According to Realiste AI statistics, this city's real estate cost is expected to climb by 29% in 2023.
How Much Money Do I Need to Save Before Investing in Dubai Real Estate?
The lowest real estate costs in Dubai for investors beginning at AED 360,000. (USD 98,000). You can get a cheaper home, but it won't be easy to maintain, and you will have less cash if you decide to resell.
Is Dubai Safe Place to Invest?
Dubai is well-known for its security and stability, making it an appealing location for real estate investment. The city is famous for its low crime rate and secure atmosphere, making it a good place for investors to invest.
Where is the Highest Return On Investment in Dubai?
Dubai Marina and International City are two of the most important regions for investors trying to maximize their returns on rental properties in the UAE.
Is Dubai Real Estate Worth Investing?
Absolutely yes, Dubai's low property taxes and growing population make it an excellent area to invest. The visa program, high rental returns, and inexpensive property costs make it an appealing investment prospect.
Final Words:
One thing that attracts investors is that they get so much profit after investing in real estate in Dubai. Dubai has several characteristics that make it a great destination for investment in real estate in 2023. With its tax-free environment, expanding economy, strong tourist sector, and international developers, Dubai offers local and foreign investors a secure, stable, and rewarding investment opportunity.
Related Articles: