Dubai is a state of the United Arab Emirates situated on the edge of the Arabian Gulf. It is the 12th most expensive city in the world and is considered the best city to live in. A diverse population lives in Dubai and connects the Sultanate of Oman with its border.
Dubai is famous for its high-sky buildings, dunes, beaches, and ports. It is a hub of business and new emerging real estate.
Moreover, Dubai is a place of luxury and offers a liveable life routine with all the basic life needs. Well, we are going to talk about them in detail. These qualities distinguish Dubai from other cities, and people love establishing their future homes in Dubai.
24 Biggest Reasons Why Everyone Wants to Live in Dubai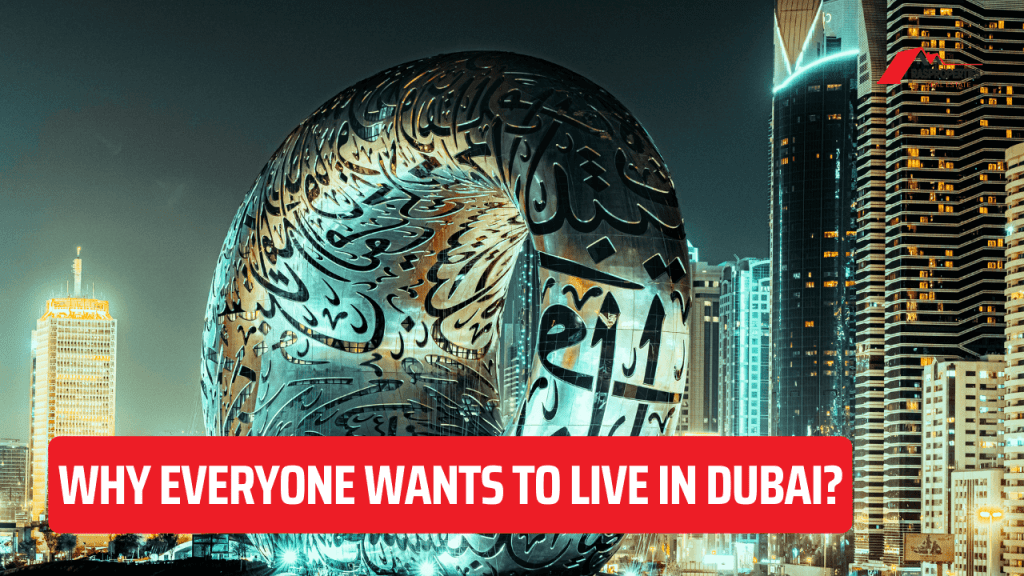 Dubai is a city of calm and peace, and it offers you the best quality of life and career opportunities. A person who just visited Dubai wants to have a home in Dubai.
Your entire life will change when you get a chance to settle in Dubai. And this article explains all the possible reasons you should know about. We are not just writing on our behalf; it is the public who decides to be a citizen of Dubai and loves Dubai for the following qualities.
Geographical Location
Dubai shares its boundary with Asia, Africa, and Europe through the short flight. There are 9.0 Million ex-pats living to earn money and build businesses.
Dubai is the best place to earn money, and 80% population is foreigners. Some of them settled in Dubai before independence. Now 200 nationalities are living in Dubai.
Its significant geographical location and famous places make Dubai including; Burj Khalifa, Ski Dubai, Burj Al Arab, and Desert Safari, incredibly loved by tourists.
Exceptional Lifestyle
Dubai is a wonderful place to live, with high quality of life and freedom. It is one of the most advanced cities emerging in the world. So, everyone can find a luxurious lifestyle.
In Dubai, you find the best options to enjoy life. The great infrastructure and buildings are just so calmful. The quality of products and facilities complete your life.
The houses are well constructed, but due to the high temperature in Dubai, the home is air conditioners. The advanced level of construction makes your life heaven on earth.
Sustainable Climate Change
Dubai stays sunny, and It can be challenging for visitors. But if you own a home in Dubai, it must not be difficult for you because the construction of houses in Dubai doesn't let you feel that heat.
In Dubai, the most favorable season is summer and winter. Winters only stay just for a month or two. January is the coldest month of the season, and the hottest months are October and May. On other days 33 C is the normal temperature in Dubai.
Stable Economy
Dubai's economy is too strong and growing very fast. The business sector is the strongest and is expected to grow quickly in these years. The expanded economic system will bring new job opportunities and new residential areas. All this makes Dubai the most financially developed state in the World.
The economic power of Dubai also changes with oil prices. The more oil prices increase, the more benefits go to Dubai's economic industry. Therefore Dubai is setting stable goals for its development in the future.
Vast Job Opportunities
Dubai offers you the best opportunity to build your career. Doing a job in Dubai can lead you to the next level. If you are an employee, you just need to speak English well. And if you are a businessman, you can get the best opportunities to develop your business quickly.
Different schools also offer teaching skills; you can perform this noble duty with enough money. The more language you can speak more benefits and money you can make in educational institutes.
You can get a huge range of jobs regardless of your field. At every doorstep, different agencies are waiting for your to join.
Zero Income Tax
The coolest benefit to earn in the Emirates is tax-free salaries. You can enjoy your 100% earning. On the other hand, if you are starting a new business and want to have your shop or anything else. Then there is no need to pay tax. There exists a tax-free environment.
Taxes on other goods, including food and drink items, are also tax-free. All these encourage a happy citizen here.
It greatly impacts foreigners; they establish their businesses and earn with courage without the tax burden. It depends on you how you can spend your money. But it is always better to save money to be financially strong.
Good Education
Moving from one country to another is not always easy when you have a family. During this settling, the biggest concern for children is their education.
While settling in Dubai, education should not be your concern. Because in Dubai, hundreds of international educational institutes are present.
Dubai has a great schooling system, with guaranteed high grades, curricular activities, Arabic English, and your mother language. You will be happy to know all about their career.
As well as World's most famous American and British universities are also located here.
Advance Healthcare Facilities
The healthcare facilities in Dubai are at an advanced level. There are several well-trained international medical officers. They provide health benefits to every citizen equally.
Dubai is the place where medical staff from different worlds is serving. Although, these facilities are not free of cost. The employees can get these facilities free if they are under any insurance.
The health educator's mother language advances. The medical officers established these rules quickly; like back in 2019, Dubai remained safe from the COVID-19 pandemic.
Amazing Social Life
In Dubai, you can find the best social life. The night and day are the same; people love to stay outside at night. You can find many restaurants, theaters, nightclubs, and bars there. Here you can make your life more comfortable with your friends and family.
In Dubai, you can feel positive vibes everywhere. You can enjoy your weekend in a different place as there are many places to explore. Every year new places are introduced.
Here exist the world's best entertainment system. Every month a concert of well-known singers is held. You can enjoy every moment of life with great memories.
Dubai has equal opportunities to find the best life here. If you love adventure, then there is no need to be confused about having a second home in Dubai.
International Airport
Dubai has an advanced airline system; the international airport offers flights worldwide every 5-6 hours. You can travel easily from one country to another within a day or night.
Dubai international airport is the world's busiest airport. It helps to reach the passengers frequently, at a low cost. So, the travel opportunities are endless.
Languages
The native of Dubai speaks Arabic, and there exists a different version of Arabic. In UAE there, more than 80% are ex-pats. For them, English is the most common language.
The official language is English for people living in Dubai for work or business. English is an international language, making living easy while traveling from one country to another.
English speaking is the most common among people. If you can't speak Arabic, this is the best option for communication.
Range of Shops
Dubai is the latest place for the best shopping. Dubai has the biggest and most modern level shopping malls and a wide range of shops everywhere. It's a great opportunity for luxurious shopping.
Here you find international brands and can shop for everything in your culture. The most amazing thing is that you can buy all the goods reasonably.
You can enjoy the best shopping during the Shopping Festival in Dubai. These festivals encourage people to explore Dubai and shop the famous things from different countries.
Residencial Visas
The government of Dubai also offers you a visa. You are a foreigner buying a home in Dubai and can get your residential visa. And if you have been working for upto two years in any company as an employee, you can also have your visa.
On the other hand, if you are living in Dubai and offering your duty as a professional, you are ready to obtain your citizenship card and passport. It is not easy all over the World, but UAE offers you Dual nationality at minimum cost.
Global Events
Dubai Expo is a famous event in Dubai where people get to feel unique experiences, where 60 daily shows are offered, and over 200 restaurants serve world-class food. It includes 191 country pavilions ( tents) that take them to a different world where they will remember every moment.
Expos offer an international platform for cultural exchanges and interaction with the host country, other participants, potential tourists, trade partners, and investors.
Sports and Cultural Shows
Dubai celebrates various events and festivals throughout the year due to the diversity of migrant cultures. Theatre and art exhibitions have become important parts of the city, and major sporting events such as tennis, golf, horse racing, and rugby are held regularly. Sports fans may watch and enjoy some of the world's best sports matches.
The modern era also brought the following sports to the UAE: desert safari, dune buggy riding, cycling, land sailing, quad biking, dune bashing, and sandboarding.
Crime Rate Low
This city has a peaceful environment. Women can roam around freely without fear of getting harassed. It's unique and a safe refuge for children and older people, who can roam around any time of day or night without fear.
The UAE government has established strict rules and well-designed regulations to keep the crime rate low. It is possible, due to the responsive Dubai police force, that Dubai is a safe place for all nationalities residing in the Emirates. Dubai will be declared the safest city in the world in 2023.
Low Petrol Prices
In the oil-rich United Arab Emirates, fuel was once cheaper than bottled water. Although the price of petrol has risen in recent years, it is still significantly lower than in other cities and countries worldwide.
Residents and visitors can take advantage of this by buying or renting a car with no difficulties and at much less expensive rates than in many other parts of the world.
Religious Equality and Freedom
According to the country's laws, Islam is the official religion. It guarantees religious freedom as long as it does not violate public policy or values. It declares that all people are equal before the law and forbids prejudice based on religious beliefs.
Residents can follow any religion they like, and the government has built religious institutions such as churches and temples. Dubai, a city that accepts all nationalities and religious beliefs, has effectively built a respectful environment for everybody.
Well Developed Transport Systems
The Dubai government has significantly invested in its transportation infrastructure, bringing it to the top of the world rankings. The Dubai Metro is potentially the most popular way of public transportation in Dubai, as it is an automated, driverless railway system. Now two metro lines are working in Dubai; one is the Red Line, and the other is Green Line.
Dubai also has a well-developed road system, many buses and taxis, and regular flights to locations worldwide from Dubai International Airport.
Magnificent Architecture
Dubai's architecture represents its wide culture, tradition, and spectacular growth and development, making Dubai undeniably beautiful with some of the world's best architectural masterpieces.
The Dubai State Government invests greatly in the building to strengthen the city's economy. There exist magnificent, world-famous structures are found here. The beautiful buildings and structures are the best part of UAE, such as the Burj Khalifa, the world's tallest building, the Burj Al Arab, the world's first seven-star hotel, and many more. Its height is 828 meters, and it has 160 stories.
International Food Availability
Dubai has a vast range of Arabic, Iranian and Lebanese food. All kinds of international foods are present here, from vegetarian to non-vegetarian. Dubai serves something for each traveler.
If you are foody or not, you cannot keep yourself away without trying Kellaj, Baba ganoush, chelo kabab, pizza of Dubai, falafel, fattoush, ooze, and Knafeh.
Emerging Real Estate Market
The real estate market of Dubai is improving very fast, and it is estimated that it will increase upto 46% in 2023.
Dubai offers attractive opportunities, and you will not regret investing your savings to buy a home here. It is the ideal destination for entrepreneurs and business dealers.
Dubai offers powerful property deals for your bright future. When you buy property here, you do not need to pay extra income taxes; you just buy and register it with zero tax paid. Infact Dubai is the best place for real estate investment.
Safest City for Women
The experts of InsureMyTrip held different surveys and determined that Dubai is the safest city for women to travel alone.
According to the report, Dubai got an 8.12 safety score from the 65 global cities. Here you find gender equality and can walk alone at night without worrying.
So, the women who prefer to travel alone, Dubai is their destination to live with a vibrant culture.
Advance Technology
When we talk about advanced technology, Dubai comes first because, in this short period, UAE has fairly grown to the next level.
The UAE government invest a million dollars in the beautiful transformation. We can see around even on social media platforms. Many influencers and celebrities keep posting their love for Dubai.
People in Dubai enjoy high internet speed. With all the advanced facilities, people are happy with their life.
Final words:
Dubai is the world's most gorgeous and connected city, and living in Dubai is a dream for many people. You will not regret staying here in Dubai, you can get a residency visa easily, and in this article, I have explained a few reasons why you should come to Dubai.
Related Articles: